With the closure of Postal Station K just north of Yonge and Eglinton, the Rockport Group is moving forward with redevelopment. When Canada Post moved to a more modern facility, the developer saw an opportunity for something special at the site of the Battle of Montgomery's Tavern. Located at 2384 Yonge Street, the Rockport Group's Montgomery Square project will integrate with the heritage post office for a sophisticated new condo project.
Montgomery Square will add a 26 storey tower behind Postal Station K. The limestone post office building dates back to 1936. The post office also stands on the site of the famous Battle of Montgomery's Tavern—a National Historic Site of Canada—a key turning point in the Upper Canada Rebellion of 1837.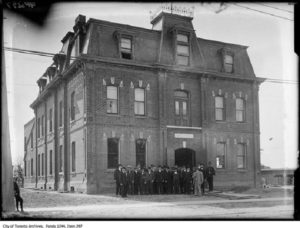 With a forecourt along Yonge Street, the site is a popular meeting place in the neighbourhood. The Rockport Group aims to preserve and enhance the public space.The new glass tower by RAW Design will be built behind the heritage building. It'll harmonize with it by incorporating panels similar to the stone blocks of the post office.
The Rockport Group plans on restoring the post office and re-purposing it for destination retail or restaurants. This project should enhance the area's sense of place with high-quality infill, while keeping its existing architectural and historical assets intact. The Rockport Group plans high-quality landscape architecture to reflect the history of the site—evening in the paving design.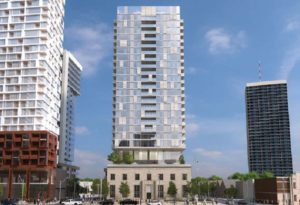 The location on Yonge two blocks north of Eglinton is outstanding. Yonge and Eglinton is one of the city's most vibrant neighbourhoods. With the completion of the Eglinton Crosstown LRT line, the area will be at the crossroads of two rapid transit lines. The neighbourhood is safe, with great shopping, bars and restaurants. Its bustling streets are like a second downtown.
Montgomery Square is still in its infancy at the registration stage. But with the Rockport Group's careful approach to the details at this National Historic Site, this tower will be among Yonge and Eglinton's most outstanding projects. Montgomery Square looks to be the kind of sophisticated development needed to generate greater value in an increasingly crowded market.
WANT TO STAY UPDATED ON ROCKPORT GROUP'S PROPOSED 26 STOREY CONDO? JOIN OUR VIP INSIDER'S CLUB BY FILLING OUT THE FOLLOWING FORM:
[condoForm]