Walking along Bloor Street in the Annex, one sees a curious folly. What appears to be an old Georgian building from a distance is just a façade strangely standing in a courtyard at One Bedford—a contemporary condo building at Bloor and Bedford Road. The façade is that of architect John Lyle's old design studio, where he worked on his distinctly Canadian style of architecture.
It's hard to imagine what the building looked like or its history. The façade seems alien to the new complex—its windows don't align with those of the new building, and there seems to be no relationship between old and new.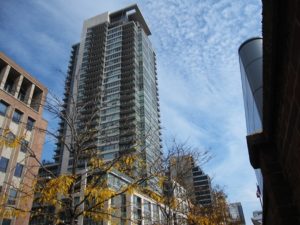 Heritage preservation and property development have had a tumultuous relationship since the 1950s. Outstanding old buildings were routinely demolished after World War II for banal modern towers. Some developers, however, are now stepping up to restore and incorporate heritage buildings in their developments.
Architects Jack Diamond and Barton Myers pioneered the notion of integrating heritage buildings with new developments in projects like York Square (1968) and Sherbourne Lanes (1975). The late Paul Oberman realized that heritage buildings could be leveraged to enhance new development. His development company, Woodcliffe Landmark Properties, restored the flatiron-style Gooderham Building for prime office space. Woodcliffe also restored the wonderful CPR North Toronto railway station from 1916 for the LCBO's flagship store and built new condos around it.
Other developers are following in Oberman's footsteps. MOD Developments is incorporating heritage buildings alongside new buildings in projects like the Massey Tower and FIVE Condos. Even David Mirvish, who commissioned Frank Gehry for his legacy project on King West has recently decided to preserve his heritage buildings and build outstanding new architecture designed by Gehry around them.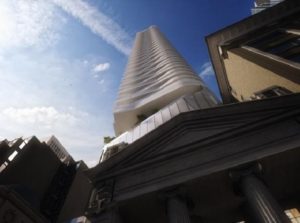 Not only are heritage buildings being restored, but the quality of the new architecture is usually first rate. That quality is also generally reflected in build quality—those who recognize the value of heritage are keen to construct great new buildings as well. When heritage is preserved, Toronto's streets are enhanced with layers of history. The city is enriched. New condo owners can find sustainable value in projects that incorporate heritage buildings tactfully.
WANT TO STAY UPDATED ON HOW NEW CONDO DEVELOPERS ARE PUTTING UP NEW BUILDINGS WHILE SUSTAINING THE HERITAGE OF THE CITY? JOIN OUR VIP INSIDER'S CLUB BY FILLING OUT THE FOLLOWING FORM:
[condoForm]