Forget the political rhetoric. St. Clair West is booming. Its once-in-a-generation construction project was difficult, but the street is more vibrant than ever with some of the city's best new restaurants. Property values are up. The Rockport Group is eyeing the street's great potential with the Nest Condos. The 9 storey tower is currently in preconstruction sales.
Located at 829 St. Clair Avenue West, the Nest Condos looks to be a perfect fit for the broad midtown avenue that caused so much controversy over its streetcar right-of-way. It replaces non-descript buildings, including a standalone KFC that would be more at home in suburbia than on a walkable main street.
Today, the streetcars run reliably, the sidewalks are filled with people and the streetscapes impress with public art at streetcar stops and ornamental lighting. A short streetcar ride to St. Clair West subway station, the area also has its own amenities.
Beyond the colourful shops of the St. Clair West strip, there's also Artscape Wychwood Barns—a heritage streetcar maintenance facility converted into an arts and community centre. The restored streetcar barns host a year-round farmer's market with organic foods.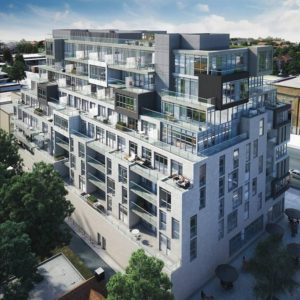 The Nest Condos' glass façade by RAW Design is enlivened with a series of lightly projecting rectangular forms in black, white and grey patterns. The building will be partially clad in FibreC—an environmentally-friendly mineral composite material. The Nest Condos will also feature geothermal heating and cooling systems to help the environment and potentially save owners money.
Units range from 444 square feet to 1193 square feet. There will be 74 parking spots for buyers. The Nest Condos will line St. Clair Avenue West with an additional 10,000 square feet of retail space, which can also be divided into 1,500 square foot retail units.
The building will feature some unique amenities like a pet spa, fireplace and car share. It will also have more mainstream amenities like a concierge, terrace, lounge, exercise room and guest suite. South-facing views of the downtown skyline should be panoramic.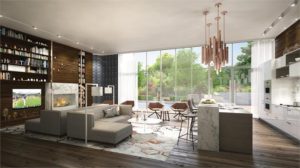 St. Clair West is evolving into a great urban place by any standard. Its public realm has been overhauled and its transit now works well. People are flocking to the broad midtown avenue. Now's the time to build a nest.
WANT TO STAY UPDATED ON THE NEST CONDOS? JOIN OUR VIP INSIDER'S CLUB BY FILLING OUT THE FOLLOWING FORM:
[condoForm]