Proximity to subway stations has been a selling point since Toronto started building its subway in the 1940s. To stand out in a crowded market, developers have turned to connecting their buildings directly to the subway for the greatest ease of access and convenience.
Direct subway access is a convenient and valuable feature. It makes it possible to dress lightly in harsh weather, particularly if your destination has an underground connection to the subway. Many downtown office buildings, for instance, have either a direct connection or an indirect connection through the PATH network.
8 new condos promising direct underground subway access stand out from the crowd.
1. Gibson Square, North York Centre Station – Menkes Developments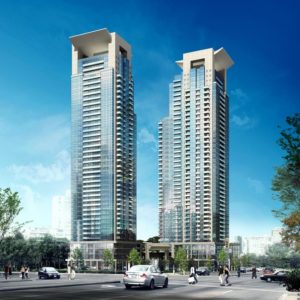 Monumental arched tops uplift this pair of 42 storey condos in North York Centre. The project has direct underground access to North York Centre Station and also to Empress Walk Shopping Centre. With a great location at the heart of North York Centre, Gibson Square is also a short walk from Mel Lastman Square, great parks, shopping and restaurants.
2. Emerald Park Condos, Sheppard–Yonge Station – Metropia, Plaza and Bazis International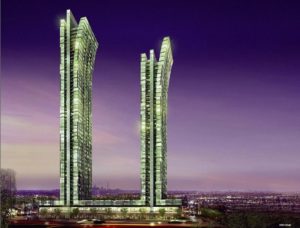 This pair of towers just south of Yonge and Sheppard will have eye-catching green façades rising above their podium. What makes the 42 and 33 storey condo towers stand out are their outwardly curved façades. Creating an architectural gateway for North York Centre on the street, the project will also have direct access to two subway lines at Sheppard–Yonge Station.
3. Hullmark Centre, Sheppard–Yonge Station – Tridel and Hullmark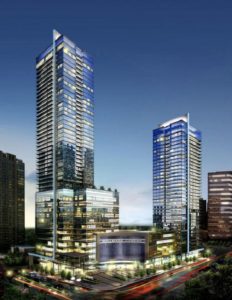 The Hullmark Centre is an understated yet sharp pair of towers on the northeast corner of Yonge and Sheppard. The complex also has retail and office space and addresses the intersection of Yonge and Sheppard with a broadly curved podium façade. Residents will have underground access to Sheppard-Yonge Station.
4. E Condos, Eglinton Station – Bazis, Metropia, RioCan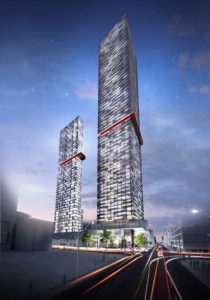 E Condos was designed by architect Rosario Varacalli and will face the northeast corner of Yonge and Eglinton with landscaped plaza. The landmark 58 and 38 storey towers will also feature two cantilevered pools projecting from the 58 storey building, surrounded by floor-to-ceiling windows and panoramic views of the skyline. Residents will have access to the subway and Eglinton Crosstown LRT line.
5. 2221 Yonge Condominiums, Eglinton Station – Tower Hill Development Corporation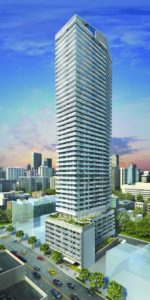 2221 Yonge is a polished tower on Yonge Street south of Eglinton now in sales designed by Pei Partnership Architects and Quadrangle Architects. The 56 storey tower has a unique pentagonal shape with cantilevered wraparound terraces. Its inspiration was Toronto's many apartment buildings from the 1960s, but 2221 Yonge also moves residential architecture forward with its unique form. Residents will have direct access to Eglinton Station.
6. One Bloor East, Bloor-Yonge Station – Great Gulf Homes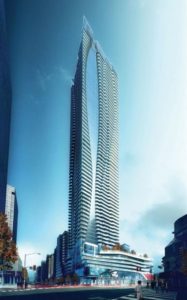 Great Gulf's 75 storey tower now rising above its sculptural podium is set to further enliven the city's main crossroads with new residents, retail and architecture. The architecture is unique with bold ripples, while interiors will be luxurious and distinct. One Bloor East is a rare condo to offer residents access to both lines 1 and 2 on the Toronto subway. It will be one of the city's most prominent landmarks.
7. Totem Condos, Wellesley Station – Worsley Urban Partners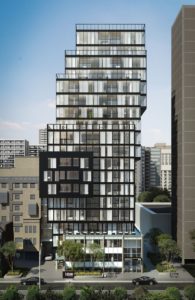 Totem Condos is nearing construction. Sales have been brisk. With a distinctive design, central location and great features, Worsley Urban Partners offers an excellent option for downtown living. The location is close to the Yonge Street strip, but on a leafy side street. The building will feature direct access to Wellesley Station.
8. Residences at U Avenue, St. Patrick Station – Amexon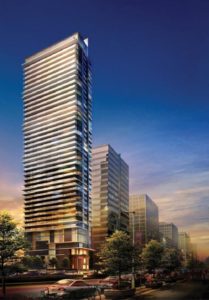 Renderings were recently released for this elegant and powerful tower combining office space with condos above. Professionals working downtown will appreciate the location on University Avenue near the city's major institutions—the Financial District, hospital row, Queen's Park and City Hall are all in close proximity. For those needing to travel further, the tower will have direct subway access to St. Patrick Station.
Direct subway access grabs peoples' attention as it implies the greatest ease and convenience when access the subway system, which is what developers should strive to deliver if they market their buildings with this feature. These 8 condos promise great homes for buyers. Direct subway access will make them even more attractive well into the future.
WANT TO STAY UPDATED ON NEW CONDOS IN TORONTO WITH DIRECT SUBWAY ACCESS? JOIN OUR VIP INSIDER'S CLUB BY FILLING OUT THE FOLLOWING FORM:
[condoForm]