The luxury condo market is booming. Sotheby's International Realty Canada reports that January through June sales of condos over $1 million were up 53 per cent over last year. Strong sales suggest that luxury condos remain a good investment.
If you're looking to invest in a luxury condo, it can be difficult to start. Many condo projects offer premium units and penthouses north of $1 million. True luxury condo developments, however, are rarer. What distinguishes a luxury condo from the mainstream in today's market? Three new condo projects offer a glimpse.
Pier 27 – Cityzen and Fernbrook Homes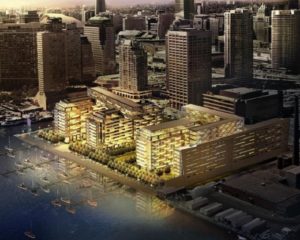 There are many great locations in any city, but to offer something truly unique is a hallmark of luxury. It may be a location near another famous landmark or public space like Central Park in New York City, or it may be for a one-of-a-kind view. Cityzen and Fernbrook Homes deliver both with a downtown site at the water's edge facing the Toronto Islands. Only a handful of buildings can match that; Pier 27 is the closest to Yonge Street.
Pier 27 also demonstrates a second key feature of a luxury project: architecture and design. A luxury project may be understated by design, but it should never look generic. The minimalist towers clad in high-quality curtain wall are restrained, but the 3 storey bridges with additional residences are a striking and memorable feature. Luxury buildings should be distinguished by their façades and interior spaces.
1 Yorkville – Bazis and Plaza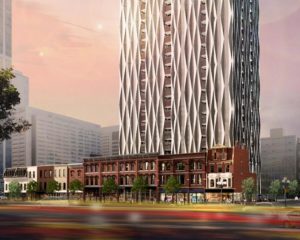 All condos include some amenity spaces like a lounge and terrace. Luxury condos go above and beyond what's normally available to purchasers. 1 Yorkville's amenities are impressive. Its spa has an outdoor pool, hot tub and hot-and-cold plunge pools. Its fitness centre has top-of-the-line equipment and a Crossfit studio.
1 Yorkville tower's greatest feature, however, is its Signature Concierge. The signature concierge is a discrete and courteous personal assistant service that can handle tasks like booking airline reservations, grocery shopping, buying event tickets or delivering a bouquet of flowers. The Signature Concierge Services will be prepared to assist residents with a variety of everyone tasks. High-value amenities are another ingredient in making a luxury condo.
 277 Davenport – Burnac Corporation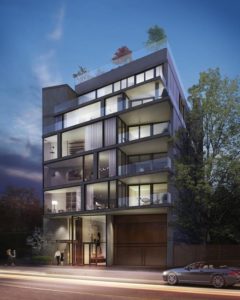 277 Davenport is a 6 storey midrise with just 10 residences. The difference at 277 Davenport comes down to size and finishes. Available residences—full floor, half floor or two storey—start from 1743 square feet and go up to 3457 square feet. Balconies range from 216 square feet to over 1000 square feet.
Size isn't everything, and the quality of the interior spaces makes the difference. The units will have fireplaces and 10 foot ceilings. All finishes are first rate. Kitchens will feature Poliform or Artcraft kitchen cabinets, cantilevered centre islands for seating and top-of-the-line appliances by Miele and Wolf. Washrooms will have custom-designed bathroom vanities with fine Zucchetti fixtures. 277 Davenport shows that a luxury condo should have substantial square footage and the finest interiors.
Luxury is about minimizing compromise and maximizing desirable features. Pier 27, 1 Yorkville and 277 Davenport demonstrate that what constitutes luxury is multi-faceted. Nevertheless, all luxury condos should show well in terms of location, architecture and design, amenities, square footage and quality of interior design inside units. When spending over $1 million on a condo, there isn't much room for compromise.
WANT TO STAY UPDATED ON LUXURY CONDOS IN TORONTO? JOIN OUR VIP INSIDER'S CLUB BY FILLING OUT THE FOLLOWING FORM:
[condoForm]