The winners of the final edition of the Pug Awards were announced on June 18, 2014. Among 32 residential buildings nominated for this year's awards for best architecture, Urban Capital's River City took home the People's Choice Award. Seven other condos received positive scores.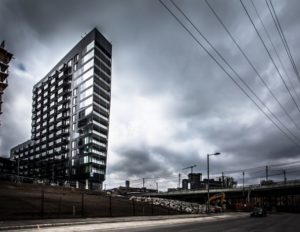 River City's first phase, along with Context's Market Wharf and Cityscape and Dundee Realty's Clear Spirit at the Distillery, received the highest positive scores in the residential category.
River City's first phase is characterized by a thin profile, angular façades, sleek black cladding and dynamic window patterns. The distinctive condo enhances the West Don Land's sense of place and creates a gateway effect into downtown from the east. It's no surprise that it took home top honours as the most distinctive project on the list of nominees. Phases 2 and 3 continue its commitment to great architecture.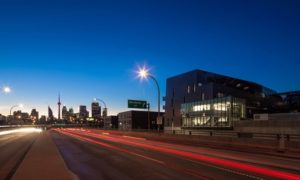 This year, the public also voted on the best residential building of the past ten years for the first time ever. The winner? 500 Wellington West by Core Architects and Freed Developments completed in 2012.
The sublime boutique condo building fits into its neighbourhood wonderfully with its midrise scale and narrow façade. The façade has strong geometry and outstanding materials like fine curtain wall glass and finished wood balcony ceilings that contrast warmly with its black brick walls. It contains just 17 units.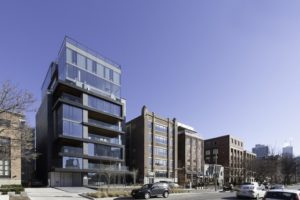 Winners in other categories include Bridgepoint Active Healthcare designed by Diamond Schmitt Architects, HDR Architects, KPMB Architects and Stantec for Best Commercial or Institutional Building (which also won the Paul Oberman Award for Adaptive Reuse and Heritage Restoration), and the Gardiner Museum by KPMB Architects for the Best Commercial or Institutional Building in Toronto of the Past Ten Years.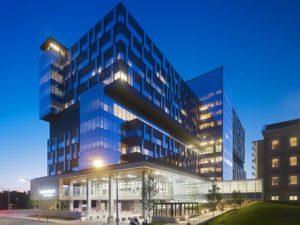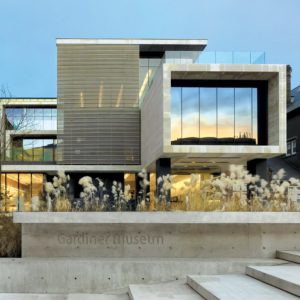 The Pug Awards are concluding this year after a decade, but the need for discussion about the state of architecture in Toronto is greater than ever—this major development boom will shape the face of the city for decades to come.
Strong architecture and urban planning creates valuable urban environments that attract people and investment. If the city continues to recognize and promote architectural achievement in new condo development, it will ensure that new development generates sustained value and vitality in its many great neighbourhoods.
LIKE THIS POST? WANT MORE GREAT INSIDER INFO? SIGN UP TODAY FOR OUR VIP INSIDER'S CLUB BY FILLING OUT THE FOLLOWING FORM:
[condoForm]